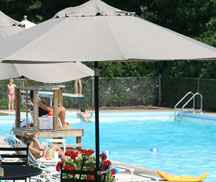 The entire family will enjoy our pool facilities – an inviting, crystal-clear swimming pool with diving board, as well as a wading pool for our youngest members. The pool opens on Memorial Day weekend, and is open daily from 11 am to 8 pm Monday through Sunday.
The Poolside Café offers an enticing alternative to inside dining, where members can enjoy a casual lunch or early dinner on the pool patio, under the shade of a charming market umbrella.
The heated pool is fully staffed with certified lifeguards, and swimming lessons are offered for the young and young-at-heart. Member parties, private parties, and Friday night family fun takes place throughout the summer months.
You are invited to take a brisk invigorating swim or to spend a relaxing day lounging by the pool with family and friends. It's the perfect way to spend the summer! New lap lines are being painted!
Guests
Please register guests with the lifeguard. A one-time fee of $5 will be charged for out-of-town guests during the summer. Out-of-town guests must live at least 18 miles from Hannibal.
In-town guests rules: No more than two in-town guests per day, per family member. No person can be a guest more than two times during the summer. Please check that your guest hasn't already been a guest of other club members. Lifeguards keep a record of all guests. There is a fee of $3 per guest, per visit for in-town guests.
Poolside Café: Concession Stand
Hours: 11 am to 8 pm daily. If the pool closes and then reopens, the Poolside Café will reopen at the discretion of the manager.
The Poolside Café will offer beverages and prepackaged food (candy, chips, ice cream, pretzels and nachos). You also may order from the club pool menu, which includes many items prepared in the club kitchen. The Poolside Café will take your order as well as pick up the order for items ordered from the pool menu only. All transactions will be billed to your account. Members can pick up a copy of their ticket from the concession server, if desired. Click here for the Pooleside Café menu.