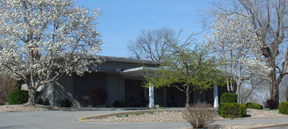 The Clubhouse Restaurant summer hours are 11 a.m. to 8 p.m.; with exception of Mondays, when the restaurant is closed.
While it is true that the Hannibal Country Club has been around since 1903, there is certainly nothing "antiquated" about its current facilities, services or amenities. We offer a relaxed and modern atmosphere – from the big screen TV in the cozy bar, the wireless internet which is available throughout the facility, to the casual patio, poolside and Garden Room dining areas. The HCC is in the business of providing the finest of social and recreational services to its members and guests.
A recent redecorating project targeted the garden room and bar areas.
Our Chef takes pride in serving an array of classic American dishes such as prime steaks and fresh seafood, plus innovative dishes incorporating regional flavors and seasonal specialties. Our chef is dedicated to using only the best and freshest ingredients, buying from local farmers whenever possible.
A variety of dining experiences await members and guests. The formal dining room is the perfect choice for elegant and celebratory occasions, while more casual meals can be enjoyed in the Garden Room, with its airy interior and large windows overlooking the golf course. The popular bar area provides superb cocktails with gorgeous views of the golf course and patio terrace area, and is an energetic gathering spot for friends and families. Casual attire may be worn in the bar and Garden Room.
During the summer months, members and guests can enjoy dining in open air on our newly expanded patio, where tables with charming market umbrellas offer European-style ambiance for your dining pleasure.
The Hannibal Country Club graciously opens its doors for private parties and special events, offering exquisite hospitality services. There is no finer venue for your special occasion – from weddings and holiday celebrations to corporate and charity events. The club offers catering and bar services for up to 225 people, while festive outdoor tents can be added for larger parties. Membership is not required to host receptions, banquets, board meetings or other events at the club, upon availability. Please call 573.248.1123 or email Club House Manager for information.